Author: Bill July 25, 2017, Updated: July 30, 2017
On Tuesday, July 25th, 2017 at 10:00pm Eastern the latest episode of CNBC's hour-long reality series, "The Profit", with serial entrepreneur and investor Marcus Lemonis, will head onto the Norwegian Escape.  The show, which highlights Lemonis as he puts his money down to help struggling businesses across the country, will feature chocolatier Zoe's Chocolates as they pitch Norwegian's executives in hope of striking a deal.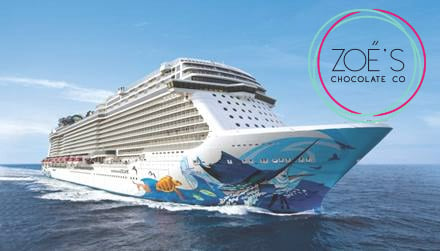 In past episodes Lemonis offers up his cash for a piece of the business, and then does anything necessary to get the business to thrive and see a return on his investment - whether firing the president or getting his hands dirty and doing the work himself.  
You can view the full episode (depending on your cable subscription) here.
Billy's Take
This isn't the first time a cruise line has made it into non-cruise related TV but I'm not a big television watcher, and frankly, reality TV seems materially lacking in any reality.  That in mind, involve one of the world's leading cruise brands and high-end chocolates and I'm putty in the hands of the TV execs that put these shows on.  What is actually interesting to me is that this could be an somewhat unique opportunity for viewers to see what the process of vetting vendors looks like - a peek into how decisions are made on these ships.  The biggest question on my mind?  Will there be Zoe's Chocolates on Norwegian ships?  Trying new fancy chocolate is just one of the many excuses I'll use to book a cruise.  Tune in to find out.
Click here to learn more about the Norwegian Escape.  Let us know what you think in the comments below, or reach out on Facebook or Twitter.