Submitted by

Bill

on Wed, 06/21/2017 - 15:26
An iconic step in the life of any new ship is the keel laying ceremony, when the first piece of steel is put in place. Today in Saint-Nazaire, France the foundation was laid for the innovative new structure of the Celebrity Edge. In front of leaders of Celebrity Cruises and STX France shipyard, an 875 ton block was lifted into the air and a coin was placed on the dock before lowering the metal section into position. Now the vessel will begin to take shape as additional blocks can be joined to the newly-laid foundation.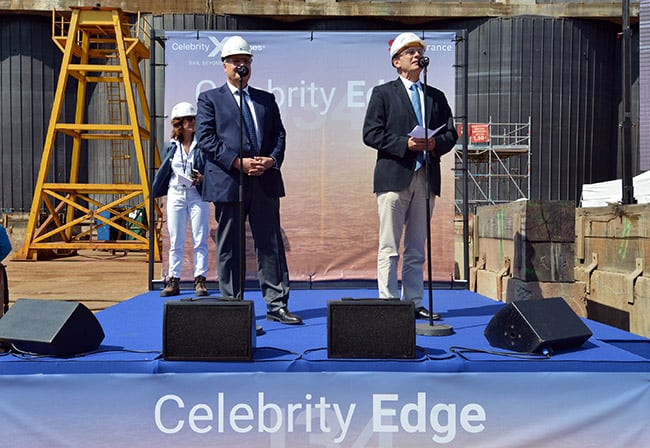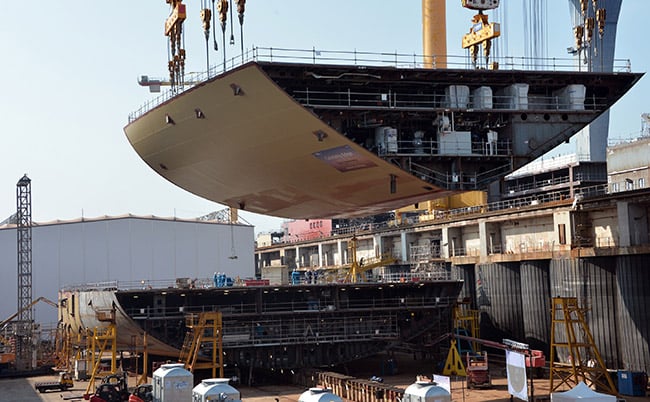 Quick Fact: The addition of the coin is a tradition dating back many years where a newly-minted coin is placed by the youngest shipyard apprentice before the ship is constructed on top of it. When completed the coin is generally presented to the ship owners.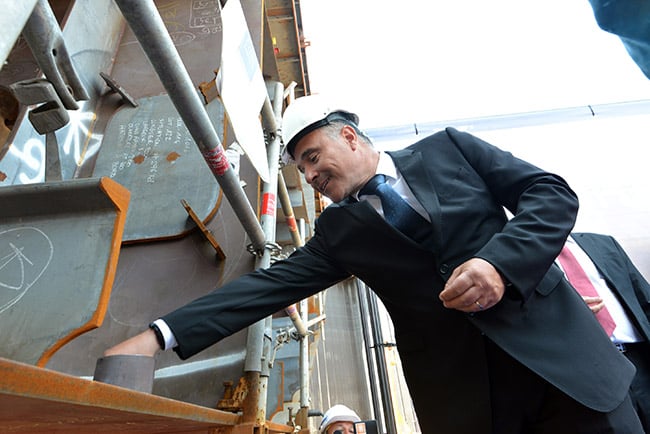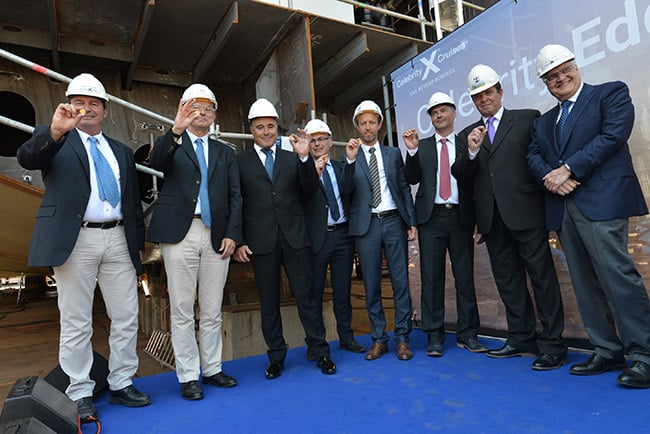 The Celebrity Edge's first sailing is scheduled for December 16, 2018 out of her homeport of Port Everglades in Fort Lauderdale, Fl. We're excited to see her get one step closer, also representing our first sailing on the Edge being that much closer. She's expected to be joined by three sister ships in 2020, 2021, and 2022. Parent company Royal Caribbean Cruises, Ltd has also worked out a deal with Port Everglades to renovate Terminal 25, which will be designed specifically to serve Celebrity Edge and her passengers. You can read more about this amazing ship here.

Have you booked on Celebrity Edge yet? Does this innovative ship make you eager to try Celebrity if you've primarily sailed on other lines up to now? Comment below or reach out on Twitter or Facebook!
Group photo, photographed from left to right: Xavier Leclercq, SVP, Newbuild & Innovation, Royal Caribbean Cruises, Ltd.; Laurent Castaing, General Manager, STX France; Costas Nestoroudis, Captain of Celebrity Edge; Jean-Yves Jaouen, Operations Senior Vice President, STX France; Sebastien Le Boulluec, Project Manager, STX France; Petteri Heimo, Project Manager, Celebrity Edge, Royal Caribbean Cruises Ltd.; Kari Pihlajaniemi, Director, Head of Newbuilding & Innovation Center, Royal Caribbean Cruises Ltd.; and Harri Kulovaara, Executive Vice President New Build and Innovation, Royal Caribbean Cruises, Ltd. Photo courtesy of STX France – Bernard Biger