Submitted by

Bill

on Mon, 04/02/2018 - 15:07
We love sharing exciting news about Celebrity Edge, a ship which proves to be truly innovative, and you can find all of our Edge content here. Launching new ships is real life though, and sometimes, that means it isn't all sunshine and lollipops. Today Celebrity began reaching out travel agents, letting them know that the November 21st and 24th three-night preview sailings have been canceled.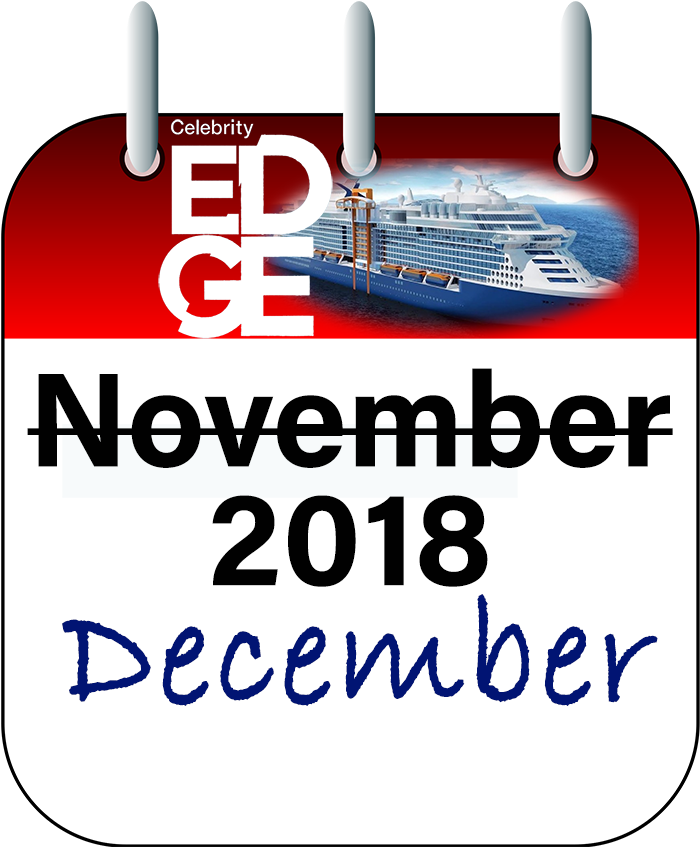 While not long ago, Celebrity excitedly announced that sailings were being added because the ship will be ready early, it seems it may not be ready as early as they'd thought, sending out the following message earlier today
"We know you're as excited about the launch of Celebrity Edge as we are; the level of excitement we're seeing around this groundbreaking new ship is truly unprecedented. Every part of Celebrity Edge has been meticulously designed to ensure this ship is truly extraordinary. And extraordinary takes time."
"Celebrity Edge will be completed and delivered ahead of schedule, as previously announced. However, for this ship to live up to the promise we've made our customers and travel partners, we have decided to set aside more time to focus on the final details once the ship arrives in Fort Lauderdale, Florida."
Celebrity is offering onboard credit ($100 per stateroom, $200 per suite) and protecting prices for guests wishing to move to alternative sailings, they're also helping with airline change fees.
Billy's Take
It's admittedly easy to criticize cruise lines when they have to change ship's first voyages like this - especially after only recently announcing the ship would be done early, but it's not uncommon. If you read our article about the addition of some of these sailings on Edge when Celebrity announced she'd be done early, you'll note we discussed multiple ships which have seen their maiden voyages delayed (we also discuss "maiden" vs "inaugural" sailings).
Yes we wish we could be on sooner, but once we're on the ship we bet that the mere memory of these changes melts away as quickly as the ice in our tropical drinks.
Were you booked on one of these sailings? What is your plan now? Let us know in the comments below or reach out on Twitter or Facebook!