Submitted by

Bill

on Tue, 01/23/2018 - 13:11
Today at the STX Shipyard in Saint-Nazaire, France, the Celebrity Edge came one step closer to entering service as she was floated out of her mounting dock, getting her first taste of the sea. The careful maneuver required seven tugboats to safely position the 1,004 foot (306 meter) vessel to the Saint Nazaire Joubert Dock where her construction will continue ahead of schedule.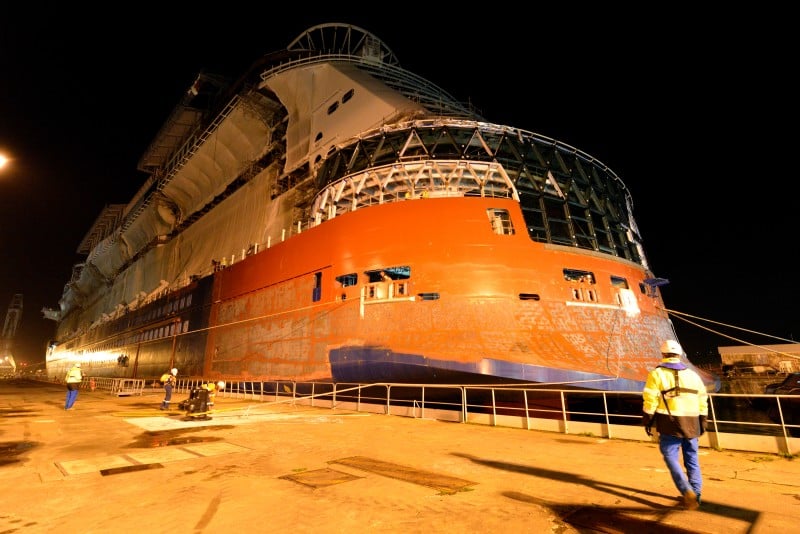 "This truly is an exciting moment for our brand," said Lisa Lutoff-Perlo, President and CEO, Celebrity Cruises. "The float out process marks a milestone in the building of Celebrity Edge. With exterior construction complete, the amazing STX France team will now turn their attention to bringing all of the meticulously designed venues and transformational staterooms and suites to life."
Our #CountdownToFloatOut has ended and it's officially here! We're so excited to announce that #CelebrityEdge has finally touched water for the first time!​
​
Be among the first to sail on this majestic beauty: https://t.co/b0yPslKoEZ pic.twitter.com/c6TQMFkDX7

— Celebrity Cruises (@CelebrityCruise) January 23, 2018

This milestone comes seven months after her keel-laying and coin ceremony, and was supposed to take place last week, but was delayed by weather, which also caused delays for Royal Caribbean International's Symphony of the Seas. Despite this, Celebrity Edge is scheduled to be ready ahead of schedule, and has even had some additional voyages added.
Billy's Take
Celebrity Edge is scheduled to be delivered to Celebrity Cruises in October of 2018 and we look forward to sailing her as soon as possible (you know, for research). Today's step is a big one, not only because it means that they can start working on the interior build-out of Edge, but because so many elements of this ship are truly revolutionary - completely new to passenger vessels of this type. Seeing her float (reasonably on schedule) means things are going well despite the challenges associated with pushing the engineering envelope. It is interesting to us that Celebrity is so confident this far out, that they've scheduled the additional maiden voyages (as we mentioned here), but with plenty of work ahead on the inside, perhaps the shipbuilding team's primary sets of unknowns around the exterior are now behind them.

Have you booked a sailing on Celebrity Edge yet? Reach out below or comment on Facebook or Twitter.