Author: Bill March 5, 2020, Updated: September 1, 2021
Celebrity Cruises notified guests and travel partners of new screenings to help reduce the spread of coronavirus/COVID-19 to other guests and crewmembers.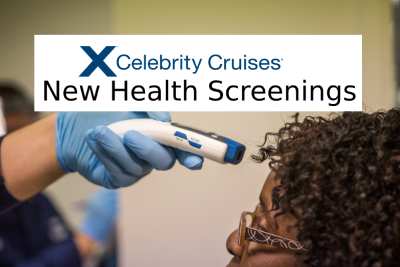 The Health Screening
Effective Friday (February 6th), all guests checking in for and attempting to board a Celebrity Cruise will have their temperature checked, and if over 100.4F/38C, they and their traveling companions will be subject to secondary screenings by medical professionals who will investigate further, including with the use of pulse oximetry.  
After Secondary Screening 
If a guest is denied boarding subsequent to the secondary health screening will receive a 100% refund.
Keep in Mind
Because the secondary health screenings will include the use of pulse oximetry (the device with the red light that shows how well you're breathing - often simply referred to as 'pulse-ox'), guests with chronic lung illness which might cause a low pulse-ox should bring a letter from their doctor explaining their baseline reading so they're not denied boarding unnecessarily.  
Final Notes
Celebrity Cruises' sister company, Royal Caribbean International made the same announcement today.  While coronavirus continues to be a major world health concern, the individual risk today, for those in the US, is still relatively low.  The situation will continue to develop, and the only thing that is certain is that the situation will likely get worse before it gets better.  Still, there is no such thing as a cruise ship disease, but news stories often skew that perspective.  We'll be cruising in a couple weeks, and again in a month.  This isn't because we don't think that there are risks to travel, and everyone has to make those calls for themselves, and with the consultation of their healthcare providers.  You can read more about my take on that from last week's post where I discuss the big question: Should you cancel your cruise because of coronavirus?
You can see the full email send to travel partners/agents below:
Dear Travel Partner,
We look forward to welcoming your clients aboard for their upcoming Celebrity Cruises vacation.  Before they embark on this exciting journey, we would like to share some additional health screening procedures that will occur at the pier during the check-in and boarding process.
As we monitor global developments related to the coronavirus, our priority remains the health and safety of our guests and crew, as well as providing your clients an amazing vacation. To comply with guidance from CDC, WHO, public health authorities around the world, and the Cruise Lines International Association (CLIA), we are enhancing our rigorous global boarding and screening measures to protect our guests and crew.  
Effective Friday, March 6, mandatory temperature screenings will be conducted for all guests, crewmembers, and visitors prior to boarding any vessel.  Temperatures will be taken via a noninvasive digital scan.  If a person's temperature registers above 100.4°F (38° C), they and their traveling companions will be referred to a secondary health screening.
Secondary health screenings will be performed by medical professionals who will check for flu-like symptoms and pulse oximetry readings.  Any guests who are denied boarding due to concerns during their health screening will receive 100% refund.
Guests who don't feel well while onboard should visit our onboard medical facility immediately for a complimentary checkup. Our onboard doctors and nurses are always available and ready to assist.
Guests with chronic lung illness are advised to contact us in advance with any questions or bring a letter from a medical practitioner that indicates normal baseline oxygen saturation.  If you have any questions, please contact us at 1-844-418-6824 in North America or (316) 554-5961 worldwide. You can also visit www.celebritycruises.com/contact-us for a complete list of global contact information.
We have elected to take these precautionary steps due to the recent increase in coronavirus cases around the world, to help avoid the spread of the virus and to ensure the continued safety of our guests and crew. While vacations are our passion, our primary responsibility is to maintain a safe and healthy environment onboard our ships, as well as in the ports we visit.  We look forward to welcoming your clients aboard for a truly incredible vacation.
Sincerely,
Celebrity Cruises
www.celebritycruises.com