Author: bill February 7, 2021, Updated: February 14, 2021
As we eagerly await a safe return to cruising out of North America, the world's largest cruise company, Carnival Corporation, recently published new policies that give us a clearer picture of what cruising will be like.  Only a few days later however, they pulled these policies from their website.  
We've reviewed the COVID-19 Policies and Procedures the company posted (removed as of early Feb 7 2020), which should give us some idea of what to expect on all of their lines, including Holland America Line, Carnival Cruise Line, Princess Cruises, Cunard Line, and others.  Below we've called out some of the highlights, and summarized what this means for your cruise experience. 
Think something is missing?  Not loving some of these new restrictions?  We share our candid thoughts at the end.

Keep in Mind
This continues to be a very fluid situation, and changes are nearly inevitable.  Many lines have discussed the possibility of requiring vaccines, and information the world doesn't have today could impact the cruise plans of tomorrow.
You can read our summary of the CDC requirements here: These Are the New CDC Rules for Cruising
The policies we're going over in this post are specific to Carnival, but they may not be unique to them – especially since many of these policies relate back to the late October 2020 CDC requirements for cruising's return.  These include things like mandatory testing, outbreak plans, contact tracing, and test cruises.  While the agency has yet to complete the plan, released required technical instructions or authorized simulated (test) voyages, cruise lines continue working with various public health experts on developing procedures to ensure safe operation once permitted. 
Before the Cruise
Note: All quoted sections below came straight from Carnival's new (though unpublished) policies.
Booking
"All guests are required to provide any screening information requested by Carnival that may be related to COVID-19, including but not limited to health, travel, and COVID-19 exposure and testing history, if requested during the booking process."
Just to book a cruise, the requirements are clear: you must play by their rules.  This means potentially providing recent travel information, and health information including (but not limited to) COVID-19 testing and exposure. 
Check-In
In the past, guests have been assigned check-in times ahead of their cruise, but depending on the cruise line, port of embarkation, and crowding, this was often more of a guideline than a rule.  Not anymore.
"Guests must arrive within their selected time to facilitate physical distancing during the check-in and boarding process. Guests arriving earlier than their scheduled time will not be allowed to enter the terminal until the time of their arrival appointment. This also applies to VIFP Diamond/Platinum and Casino guests."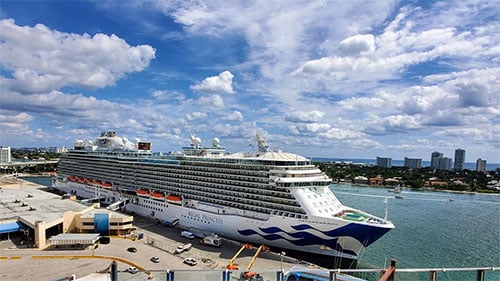 That last part (emphasis ours) doesn't necessarily mean that there won't be priority embarkation based on loyalty level or other considerations.  Those guests may be offered earlier time slots than others – but whatever time slots you're given, that's when you're to arrive.  You don't want to get to the port three hours early and stand outside, especially in South Florida heat.
Testing
"As part of our efforts to keep our guests safe and healthy, every guest 2 years of age or older, joining a ship, regardless of method of travel to the ship, is required to take a SARS-CoV-2 test between 5 days to 24 hours prior to the date of embarkation and must receive a negative result."

It's no surprise that testing comes into play, and the above section explains that proof of a recent test result is required, and details of the exact testing requirements will come with future updates.  According to the CDC however, it looks like testing and receipt of results must also be obtained at the terminal, which Carnival does mention in their policy - though this may be one of the updates we see when the policies are re-released.
"Carnival may perform additional testing at the terminal or on board the vessel."
"Any guest who fails to provide the required documentation or testing at the terminal or on board will be denied boarding or disembarked, and no refund or credit will be issued."
It would seem then, that to limit exposure even further, especially before embarkation, Carnival is going above and beyond to require testing ahead of your trip, while still likely testing at the terminal.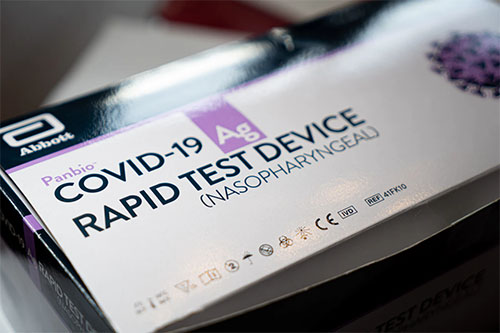 Again, we see Carnival being clear, and this time noting the consequences: play by the rules or you won't be cruising, and you won't be getting your money back.  You'll be agreeing to these terms long before you cruise.
"If at any time within 14 days prior to embarkation, or at any time during the cruise, a guest tests positive for COVID-19, exhibits signs or symptoms of COVID-19, has had close contact with a person confirmed or suspected of having COVID-19, or Carnival otherwise determines in its sole discretion that guest is unfit to board due to risk of any communicable illness, guest shall be subject to denial of boarding, denial of re-boarding, quarantine, isolation and/or disembarkation.
Under these circumstances, unless the guest has failed or refused to comply with these Policies and Procedures, they will be provided with a Future Cruise Credit. Please review Carnival's COVID-19 Refund and Cancellation Policy for further details."
Of course things might not go as planned, even if you do play by the rules, so if you are unable to cruise because of an exposure, positive test result, or other disqualifying reason, the cruise line will provide a Future Cruise Credit so you can cruise again later.
Health Screening
For years, guests have been asked various health screening questions at check-in, and there will now be additional questions about COVID and other illnesses. Further, temperature checks at boarding, and potentially secondary screening by health professionals as required to determine a guests' eligibility to board.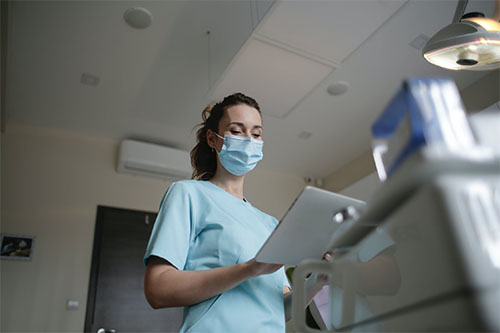 They do make clear that the information will be used and shared only with Carnival and their contractors as necessary to ensure guest safety. 
As mentioned before, you're agreeing to these terms before you cruise – and not cooperating with these efforts will result in the end of your cruise, possibly before it starts, and without a refund.
COVID-19 Protocols On Board
Screening
Guests may be required to undergo daily temperature checks and additional screening during the cruise.  Temperature checks may also be conducted prior to disembarkation at a port of call and before participating in some onboard activities.
Hand Hygiene
Hand washing and sanitization have been emphasized on cruise ships for a long time, and the new protocols simply reinforce this.  Hand washing stations and sanitizer will be readily available, and all guests will be encouraged to wash their hands frequently, for at least 20 seconds, especially before eating or drinking.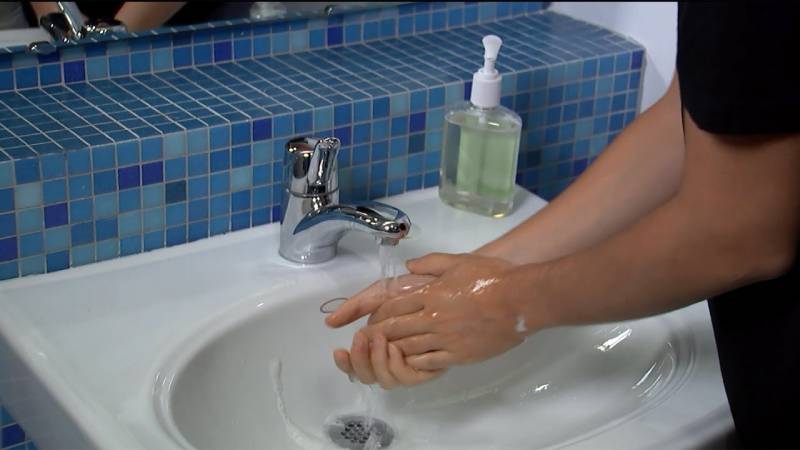 While COVID-19 seems to be primarily spread by respiratory particles, frequent and thorough hand washing continues to be a simple and effective way of reducing the spread of a variety of pathogens.
Face Masks
Yes, you'll need to wear a mask while cruising.  Masks are required for all guests over two years old while indoors except when:
in your stateroom
seated at a table and eating or drinking
maintaining six feet from one another while using cardio equipment in the gym
Outdoors, masks will be required anytime guests cannot stay at least six feet from anyone not in their traveling party.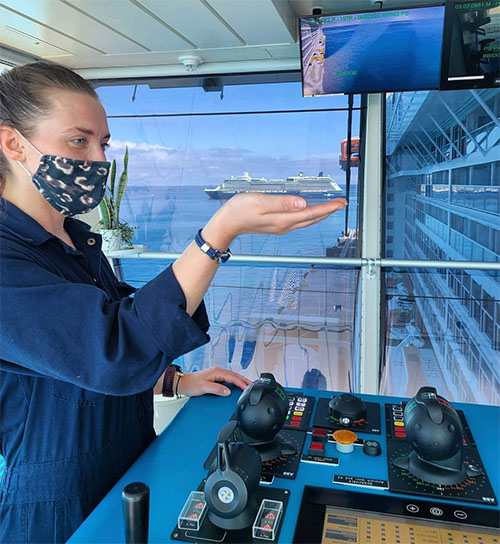 "Masks should have two or more layers and be worn over the nose and mouth. Gaiters and bandanas are not allowed, and face shields are permitted when used with a mask. These requirements apply during all aspects of the cruise, including embarkation, shore excursions and disembarkation."
Physical Distancing
Carnival says that public spaces and activities will operate at reduced capacity in order to facilitate keeping guests six feet apart.  This restriction is likely to involve far greater challenges on lines like Carnival than lines like Seabourn, whose ships aren't nearly as densely occupied under normal circumstances.
"We may use a reservation system for our public areas, such as pools, gyms, casinos, restaurants, bars, and entertainment."
"Guests can expect appropriately distanced seating in theaters, dining facilities and other common venues, modified entertainment showings and meal services to control capacity as well as other measures to promote a healthy and safe environment. These measures will apply during all aspects of the cruise, including embarkation, shore excursions and disembarkation. Buffet service is modified to eliminate or severely restrict self-service items."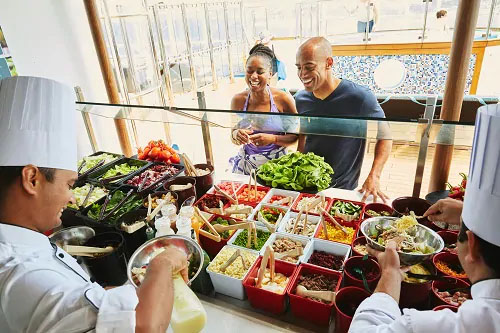 There's been a lot of talk about buffets, which are closely associated with the cruise experience.  Many lines, including Carnival Corp's Holland America Line, have for years operated buffets where guests are served by crew, and for the foreseeable future this will be the new standard.  In short, buffets aren't going away, but they'll work differently, and that may mean more carefully controlling the flow of guests and occupancy of dining areas.
Contact Tracing
Contact tracing allows the cruise line to determine whom guests have been in close contact with and when.  The goal is to identify potentially infected persons before the presentation of symptoms, thus minimizing further spread of disease. 
While contact tracing can simply be asking questions, looking up which guests had reservations or tours that overlapped another guest's, and using other manual techniques, technology can be used to make this process much more precise and efficient.  Royal Caribbean and MSC have both used technology on their European and Asian cruises to do just this.  Of course, because onboard technology might vary from brand to brand, and even ship to ship, there is sure to be some variability in how this is utilized.  Carnival did share some interesting clues in this protocol though.
"Various location tracking technologies may be used to assist in the collection of contact tracing information such as wearables, video surveillance, transaction data, and photographs taken during the cruise."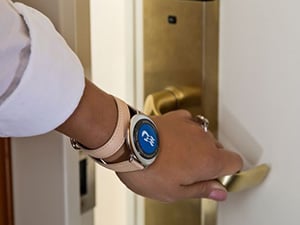 We know that the tech involved with the Princess Medallion program already makes this easy, but we expect new techniques and gear on other lines.
Shore Excursion Restrictions
"To help limit potential exposure and/or transmission to communities at destinations, during the initial return to sailing, guests will only be allowed to participate in excursions or activities executed and escorted by vetted tour operators who maintain Carnival's level of COVID-19 controls. Shore side visits may be also limited to port areas that have no public access. Self-exploration or non-Carnival sponsored excursions will not be permitted. This policy applies to all sailings scheduled during the declared Public Health Emergency involving COVID-19."
To help ensure the safety of guests as well as locals in the ports cruise ships visit, Carnival is, like other lines, limiting excursions to only those booked through the cruise line.  While some may interpret this as a money-grab, this type of arrangement guarantees that guests comply with mask, distancing, and other restrictions so that ports of call will allow ship guests to visit there.  It also helps reduce the risk of guests becoming infected on shore and bringing illness onboard.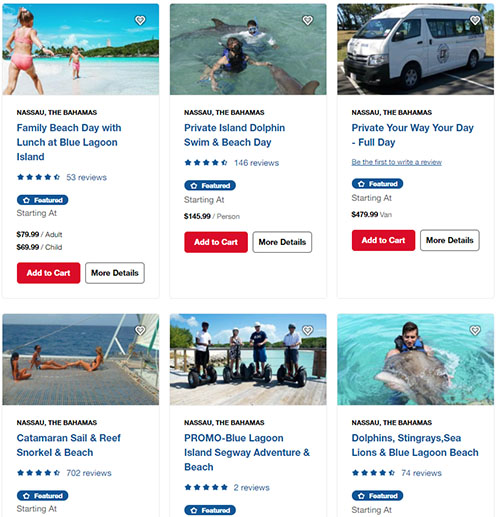 "Any noncompliance by guest or members of guest's traveling party with Carnival COVID-19 Policies and Procedures shall be grounds for refusal to re-board after going ashore, or other steps deemed necessary in Carnival's sole discretion to protect the health and safety of others. If a guest is denied boarding or disembarked due to failure to comply with Carnival COVID-19 Policies and Procedures, they will not be entitled to a refund, credit, or compensation of any kind. Guests will be responsible for all costs and fines, including without limitation travel expenses."
To be clear, if you deviate from a sponsored tour, or otherwise break the rules, Carnival may leave you in port and you'll lose your cruise fare and need to find your own way home.  MSC Cruises had a family deviate from an excursion in Europe several months ago and enforced this same rule. 
Acceptance of Risk
There is a section of these policies and procedures just about acceptance of risk, and while dry, the basic idea is simple: Carnival is taking these steps and others to help ensure everyone is as safe as possible, but there are no guarantees.  Cruising during a pandemic, just like participating in many activities ashore, may carry additional risk.
Billy's Thoughts on Carnival Corporation's New COVID-19 Policies & Procedures
The Only Constant is Change
Once Carnival decides to re-publish these policies, we're likely to see updates at various steps along the way: after simulated voyages (test cruises), as guests return to the sea and lines see how these things play out, and of course, as the global health emergency eases, or at any other time in response to changing conditions or other lines' policies.
Some of these changes may be good ones.  Perhaps cruise lines will partner with some medical centers to facilitate simple pre-cruise testing and transmission of results.  Maybe cruises sailing from certain regions will have fewer restrictions.  Time will tell.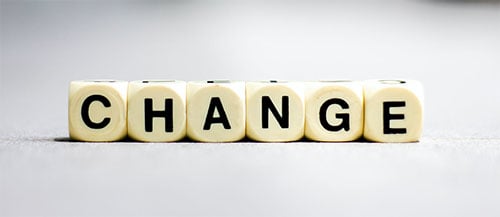 No matter the rules, there will certainly be extra steps involved with cruising for the foreseeable future, and it's the responsibility of the guest to make sure they have read and understand the latest requirements.  You don't want to show up expecting to cruise only to learn that you'll be denied boarding because you skipped a required step in the process.  This is all the better reason to use a good travel agent to help make it all clear, and furnish you with updates that are sure to come along.
What About Requiring Vaccines to Cruise?
Just because certain restrictions or rules haven't yet been codified doesn't mean they might not be added later.  Some smaller lines such as Saga Cruises, American Queen Steamboat Company and Victory Cruise Lines have already said that vaccines will be required to cruise, and the CEO of Norwegian Cruise Line Holdings Ltd,  Frank Del Rio, along with other industry leaders have said they're exploring similar requirements.
Will all lines require vaccines?  What about children?  What about those who can't be vaccinated for medical reasons?  We're experiencing a time of rapid change, and we'll all need to be as flexible as possible.  As evidence builds that vaccines are an effective way of greatly reducing health risks of COVID-19 infection, it'd be quite surprising if they didn't come into play at least in some way for all guests and or crew on most cruise lines, but once again, time will tell.  It wouldn't shock us to find that the policies, when re-released by Carnival, include some guidance on vaccines, even if only specifying that those who are vaccinated aren't excluded from the rules.
You Don't Have to Cruise
Cruising with masks, social distancing, and COVID tests is clearly not going to be as great as taking the same cruise without those restrictions.  Some readers will understandably decide that the restrictions mean cruising just isn't worth it for them, and that's okay.  Others may decide the restrictions aren't that onerous and won't significantly impact their cruise experience, and that's okay too.
If you decide that cruising under these conditions isn't for you, then you'll need to wait to cruise – the majority of these new restrictions won't be forever!  In fact, you can even book your 2022 or 2023 cruise now and reassess the situation as your final payment date approaches and prior to the line's cancellation period.
The policies that Carnival and other cruise companies are developing exist for two basic reasons: to ensure everyone's health and safety, and so they can return to cruising as soon as possible.  Any rules that get me back to cruising earlier are okay by me.