Author: Bill October 18, 2016, Updated: March 22, 2017
Virgin Cruises, started by business magnate and philanthropist Richard Branson, promised today in Miami to deliver "innovation and experiences" and that the company will now be known as Virgin Voyages, having placed an order with Fincantieri for three new vessels.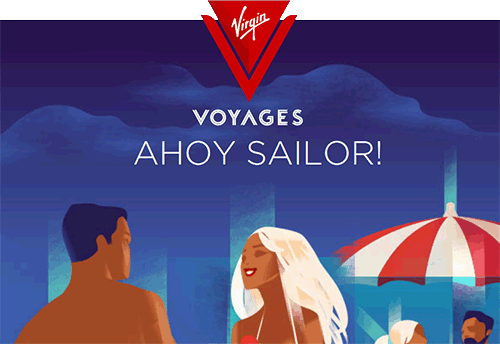 Virgin Voyages, announced by Branson in December of 2014 has a headquarters in Plantation, FL (just outside of Fort Lauderdale) and hasn't provided much news since their initial inception.  Today in Miami, Virgin Voyages CEO Tom McAlpin announced the name change as well as plans to have steel cut on their first vessel in 2017, entering service in 2020.  Oh, and Richard Branson was there as well, appearing in his typical fashion - so you'll have to head on over to our Facebook page to check that out.
As had previously been announced, their vessels will be 110,000 gross tons and carry 2,800 passengers, significantly smaller than most modern vessels sailing for contemporary and premium cruise lines.  The ships are also expected to have various eco-friendly features stemming from their partnership with Climeon, including the ability to recapture heat-waste to reduce overall energy consumption and greenhouse gas emissions.
 We're on a mission to build a bold new cruise line just for you. One that makes sailing the ocean blue exhilarating. After all, that's how travel should feel. It should be a departure from an ordinary getaway — audacious, romantic and always about you. It should never be just about getting from point A to point B. Virgin Voyages will be the place where irresistible style has finally found its sea legs. - VirginVoyages.com
 While it's expected that the initial 7 night Caribbean sailings out of PortMiami will compete with the likes of Royal Caribbean, NCL, and Carnival, the branding and previous comments also suggest that the brand will aim for a younger, more hip demographic. In fact, if you look at Virgin Voyage's marketing, children are notably absent from animations and illustrations depicting a modern take on cruise vacations.
I personally look forward to Virgin's future announcements.  The Virgin brands consistently deliver industry-disrupting offerings, and frankly, their marketing seems to have me squarely in their sights, albeit in a different way than say, Cunard does.
Will you be booking a Virgin Voyage?  What is your take on today's announcements?  Let us know in the comments below!