Author: Bill
Several years ago I went out to Ft Lauderdale beach and used Periscope to share images of cruise ships leaving port. This became popular, and as I answered people's cruise questions and shared my knowledge and experience of cruising, I kept being asked what my website was - I didn't have one. Eventually I got the hint and started CruiseHabit.com. Over the past years many readers and friends asked me if I had a podcast - I didn't.
Today however I'm pleased to announce the official launch of the CruiseHabit Podcast. Thanks to the assistance and encouragement of my good friend and CruiseHabit contributor Ric, we have a new way with which to talk ship with all of you. Ric's live blogs and other contributions to the site brought not only great content, but another voice to CruiseHabit.com, and now you can hear both of our voices discussing cruise news, reviews, history, and more.
We quietly soft launched ahead of this announcement, which means as of the publishing of this post you can already catch the first three episodes.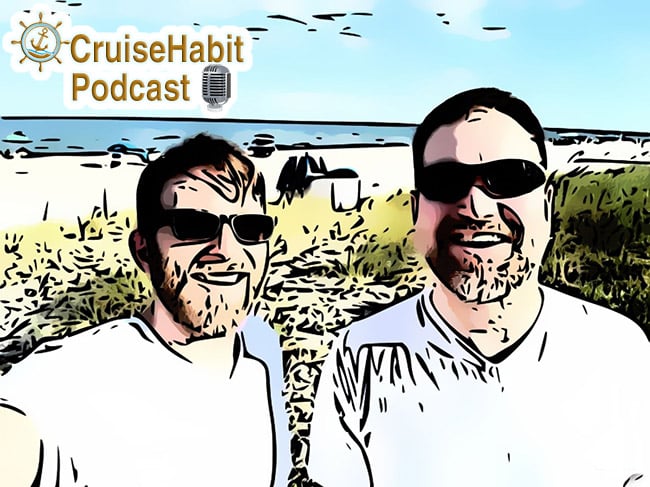 How to Listen to the CruiseHabit Podcast
The best way to listen to the CruiseHabit Podcast is with a podcast app such as iTunes, Stitcher Radio, Google Podcasts, or whatever your preference might be. Subscribing through these or other apps makes it easy to be alerted each time we publish a new episode. Alternatively you can simply head to CruiseHabit.com/Podcast and listen to our episodes right in your browser (on that page we've also got links to even more ways to listen). Further, each time a new episode is published you'll see it right on our home page along with the other articles and stores you've come to expect.
There's Always a Catch
Okay, so maybe it's not much of a catch, but a request. We really want to get the word out and to get feedback. You can help us by sharing the podcast on social media, texting the link to your friends, etc. I'd recommend heading to CruiseHabit.com/Podcast and sharing that page (there are social share buttons that make it easy) - but it's up to you!
Next, leave us a review as well as comments. You can comment on each episode page (where you'll also find show notes and relevant links), and you can review the show on iTunes. Even if you listen to our podcast via other means, a review on iTunes is a huge help.
Thanks for being the best part of CruiseHabit. Ric and I look forward to talking ship with you real soon.