Author: Bill October 17, 2016, Updated: May 4, 2018
Traditionally, the beautiful and peaceful ports in Alaska have been served by ships smaller than those which frequent the Caribbean, but Norwegian Cruise Line has revealed plans to change that in 2018 with the new 167,800 gross ton Norwegian Bliss, and an overhaul to Pier 66 in Seattle.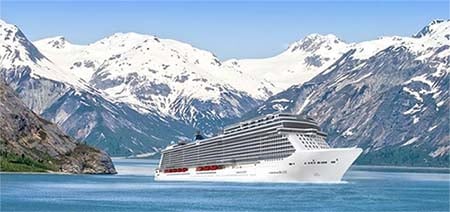 NCL made their announcement this past week at Pier 66, a Seattle Port that they and the local authority are giving a $30M overhaul in part to accommodate the new Norwegian Bliss, and as part of a 2015 agreement between the cruise line and the port.  The agreement also gives NCL, Oceania, and Regent (all operated by Norwegian Cruise Lines Ltd) priority access to the port, which is valuable in an area that sees nearly all of it's cruise traffic in only five months of the year.
The big news here however is the Bliss itself.  The Breakaway Plus class vessel will be the largest cruise ship ever to visit Alaskan ports, and have features specially designed for Alaska.  Capable of carrying 4,266 passengers (and 1,733 crew) on weekly 7 night sailings, she'll sail the Inside Passage, visiting Ketchikan, Juneau, Skagway and Victoria, BC.  Up until very recently, the largest cruise ships to visit Alaska were 110,000 gross tons or less and carried no more than 3,100 passengers.  Just this year however Royal Caribbean positioned the 138,000 gross ton Explorer of The Seas in Alaska, carrying 4,000 passengers.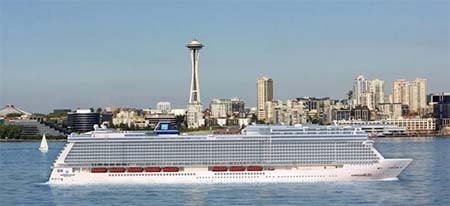 Cruise Passenger Loads In Alaska
To look at this in another way, let's get an idea of how many passengers cruise into Juneau, one of the largest and most popular Alaskan ports.  The cruise season generally runs from May to September, and while difficult to average out, on a given day you might find a bit over 5,000 passengers in Juneau, with quiet days ushering in only 2,000 passengers.  The busiest day scheduled in 2017 is August 2nd, when as many as 11,821 passengers will crowd off of the Norwegian Jewel, Norwegian Pearl, Radiance of The Seas, Star Princess, and Sun Princess.  If we replace the highest capacity ship on that day, the Star Princess, with the Norwegian Bliss, the passenger load will break a new record by almost ten percent.  On a day that busy, it would seem like an extra 1,200 passengers would be felt by both visitors, and the local businesses who would stand to benefit quite a bit.
Why This Matters
While Alaska has long been a popular destination for cruisers, it's had a more difficult time than the Caribbean in attracting families and shaking off the stigma that cruising is for newlyweds and the nearly dead.  Over the past ten to twenty years one big factor in winning over younger cruisers has been the onboard activities such as rock-climbing, surfing, and skating which the smaller ships traditionally sailing Alaska's waters couldn't accommodate.  
The limited capacity of the Panama Canal and Alaskan ports themselves have made positioning larger ships in this region all but an impossibility, but recently both the Panama Canal and several Alaska ports have expanded.The canal expansion project concluded the middle of this year, and in the past several years ports in the America's largest state have been similarly working hard to allow larger ships to berth, perhaps most notably Juneau's undertaking in 2014 as they saw nearly one million passengers a year enjoying the views and buying Ulu knives.
Now that it's physically possible to accommodate these vessels could it be that Alaskan cruising will become a better fit for families and younger cruisers?  
Is this a good thing?
As a lover of all things cruising (and a big fan of Alaska), any news like this should be welcome - and I do find it exciting.  Editorializing a bit however, I have to wonder if this is a good thing.  If you haven't been to Alaska, the port areas are very tiny.  Not in a way that suggests under-development, but in a way that is quaint, without feeling like the shopping malls of some Caribbean ports, much maligned in our family.  These areas in Alaskan ports already get very busy during peak season, so the idea that capacity could go up even more leaves me worried that further build up will occur, diminishing some of the charm - or, perhaps worse yet, that they won't expand enough and that the Alaska experienced by those of us arriving on quieter days on smaller vessels, enjoying silent strolls down Creek Street in Ketchikan will be memories, experiences replaced instead elbowing our way through the crowds as we attempt to enjoy the nature beyond the tourists.
What's your take on the expansion of Alaska as a cruise destination by the addition of larger, higher capacity ships?  Do these ships, with their additional activities and amenities make you more interested in visiting this beautiful place?  We'd love to hear your opinion in the comments below.