Author: Bill May 23, 2020, Updated: May 23, 2020
New adults-only cruise line Virgin Voyages has pushed back their inaugural season once again due to COVID-19, but their offer and timelines are both quite different from most other cruise lines.
The much-anticipated maiden voyage of Virgin's first ship, Scarlet Lady won't happen until at least October 16th, 2020, the line announced on May 21st.  This is obviously a disappointment for many guests who'd hoped to sail before then (including us), but is understandable given the current challenges.  Interestingly though, while most cruise lines expect to sail starting in August, they chose to push things back much later - for a second time.  Further, impacted guests found quite the offer waiting in their inboxes shortly after the news broke.
Virgin's March Postponement Was More Realistic than Most
Scarlet Lady was supposed set sail on her maiden cruise on April 1, 2020, but in mid-March they announced they'd not start sailing until August.  This decision was revealed when most cruise lines were aiming to resume by May, and at the time, some criticized Richard Branson's new line for canceling too many sailings.  While many lines had to work through several additional rounds of cancellations however, Virgin was able to stand by their initial plan for much longer.  Now, other lines are aiming to resume operations in some capacity this August, but Virgin looks about six weeks further out to October 16th, seemingly in anticipation that August sailings simply aren't feasible.
When will cruise lines start sailing again? Click here for our tracker showing when major cruise lines plan on resuming operations.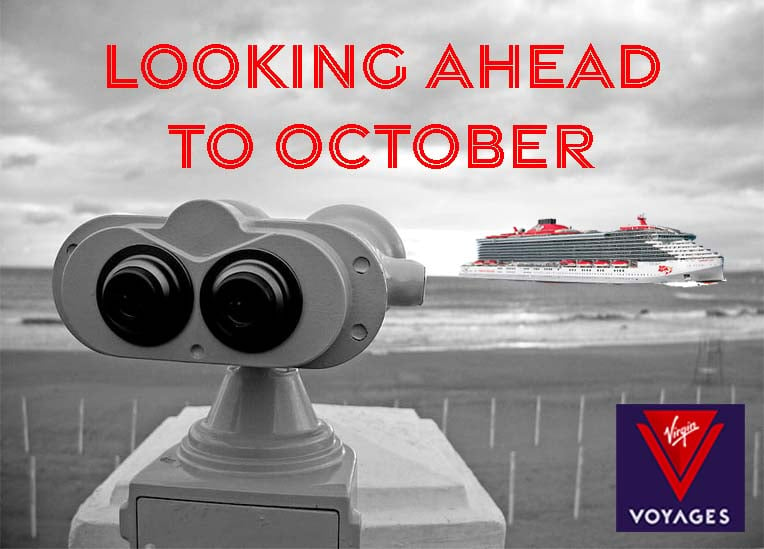 If we don't see a shift in the global situation and cruise lines' levels of readiness by mid-July, we can expect the likes of Carnival, Royal Caribbean, and NCL to have another round of cancellations - in some cases offering additional Future Cruise Credits (FCCs) to guests who they accepted cash bookings from in the weeks and months prior.  Virgin however will have more time on their hands, and even if other lines do resume earlier, they're likely receive plenty of attention for finally getting off the ground.  
Will guests be ready to board Virgin's innovative new ship in October?  The cruise line is certainly doing what they can to ensure they are.
The Most Generous Offer for Impacted Sailors (Guests)
In general, cruise lines have offered guests with canceled sailings the opportunity to get full refunds, or take Future Cruise Credits (FCCs) of over 100% the value of their fare.  This means, for example, that if you paid $2,000 for a cruise that's been canceled, you could opt to get an FCC of $2,500.  This tactic has helped cruise lines hold onto cash, and will hopefully ensure that more folks are ready to cruise when things do resume.  Virgin Voyages has made a similar offer, but sweetened the deal in a couple ways.
Sailors (Virgin's term for guests) have been offered full refunds, along with a 25% FCC to entice them to come back in the future, or, a 200% FCC.  Under normal circumstances, this doubling of your money would essentially mean you could take two cruises for the price of one - but for many it may be better than that.  Many of the Virgin sailings being offered have come down in price, so that 200% FCC might afford you two cruises in nicer accommodations, or two longer, cruises, than just the one you were originally taking.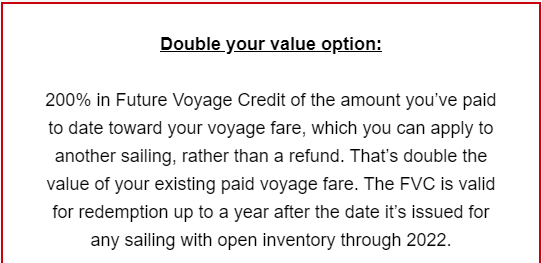 For those still reluctant to book, they announced their "Smooth Sailing" program for 2020, which shifts final payment dates to 60 days from sail date (it was previously 120), and you can cancel up to 48 hours before your sailing and get a 100% FCC.
But wait, there's more...
In addition to the 200% FCC offer, if sailors book their next cruise before June 30th 2020 (booking date - not sail date), Virgin will throw in up to $500 of onboard credit.  The amount is based on the level of accommodation sailors select: Suites: $500, Sea Terraces: $300, and Sea Views or Insiders: $150.  That's a lot of cash, especially for a line that is already including most nonalcoholic beverages, internet, all dining, and gratuities.
You can see the full offer below in a letter we received about the cancellation of our September booking:
Ahoy William,

We've made the difficult decision to cancel our sailings through October 15th, 2020 — which includes your voyage set to depart on September 18, 2020. We've been working hard to find a way to set sail by August, but that hasn't turned out to be possible.

We appreciate how many of you were excited to sail with us, so we understand how disappointing this news is. But we trust you'll understand our decision given the evolving global health challenge we're all up against.

As of right now, our first sailing is planned for October 16th, 2020. We're focused on being ready to get back on the open ocean with some exciting innovations focused on protecting the well-being of both our Sailors and our incredible Crew — which we'll update you on soon.

To make up for this change, we're offering the most flexible and fair options out there. In the next few weeks, we'll be auto-crediting double the amount you've paid to date toward your voyage fare. And if you book your next sailing before June 30th, we'll even give you up to $500 to spend on board. If you prefer a refund, you can call or email us using the information below anytime between now and December 31st, 2020.

One more piece of news we'd like to share is that we're launching our new Smooth Sailing program for 2020. We recognize the difficult economic environment that many people are experiencing, so we're bringing new introductory pricing to Sailors — while offering (even more) flexible booking policies.

For sailings through December 16th, 2020, we're moving final payment dates to 60 days (from 120 days) before you sail, and you can cancel up to 48 hours before your voyage and receive a 100% voyage credit. We want you to feel confident about making plans, while knowing that if anything changes, we're always on your side.

Please take a look at the details below or follow the link for full details on our available dates — so you can make a decision that works best for you.

Double your value option:

200% in Future Voyage Credit of the amount you've paid to date toward your voyage fare, which you can apply to another sailing, rather than a refund. That's double the value of your existing paid voyage fare. The FVC is valid for redemption up to a year after the date it's issued for any sailing with open inventory through 2022.

And because we wanted to sweeten things even more, you can also receive up to $500 in onboard credit,* if you book before June 30, 2020.

Refund Option:

A full refund of your paid voyage fare along with a Future Voyage Credit equal to 25% of your existing paid voyage fare to be used on a future sailing.**

Email us at [email protected] or give us a call at 1-954-488-2955. Please note, our hold time may be a bit longer than normal at the moment — so it may be better to wait a few days. You have until December 31st, 2020, so we'll be here.

We're excited about getting to sail with you when the time is right. Until then, we wish you and your loved ones health and happiness.

Thank you,

Tom McAlpin
CEO
Watch for Falling Prices
When pricing was first revealed for Virgin, some consumers felt the rates were high (though we found many to be quite reasonable compared to other premium lines).  Unfortunately for the cruise line, but fortunately for consumers, Virgin has lowered a lot of their prices, and people are taking note.  This will put the line in a much more competitive place when consumers are ready and able to shell out their vacation dollars.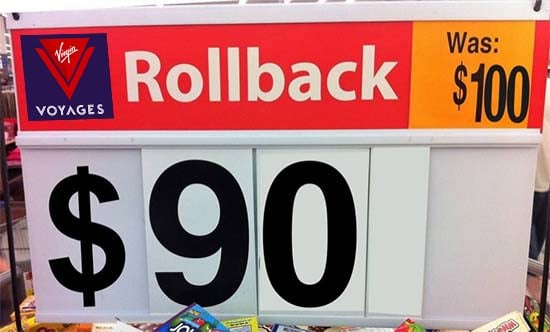 Cruise lines are always adjusting prices, running different promotions, etc, but Virgin actually revealed that they were planning on lowering the prices of some of their most lavish accommodations, while also removing some of the perks.  The line was transparent about changes taking place (and the lower prices), noting in a letter to travel professionals, "The world is changing, so we are, too...", though specifics aren't yet clear, it does seem that Rockstar Suites have been rebranded Rockstar Quarters, and transfers don't appear to be included any longer.  Mention of access to Richard's Retreat (a suite only area) has been removed from listings of those staterooms.  Guests should be getting updated invoices with new pricing and other information in the coming week.  
Billy's Take
The rapidly changing landscape for cruise lines presents unique challenges, and those challenges might be even more unique for a line that hasn't started sailing, which means they can't as easily take advantage of the day that guests will be more prepared to go back to what they know and love - their favorite cruise lines.  It seems in the case of Virgin, they're looking to approach things cautiously in terms of timelines, while being incredibly aggressive from a pricing standpoint.  This is a big change that under ordinary circumstances could be potentially harmful for a brand, but the rules have all changed, and whenever we finally get to set foot on Scarlet Lady, we look forward to taking in everything she has to offer, while working hard to forget all of the challenges it took to get there.  Remember, you can check when cruise lines will be sailing again on our tracker.