Author: bill October 7, 2016, Updated: June 19, 2017
Samsung's challenges with the Galaxy Note 7 are well known by now, and the effects of this issue are now being felt on the high-seas.  The flagship device was recalled after a number of units spontaneously caught fire (contrary to the misuse of the word, they're not exploding).  Many cruise lines now aren't allowing passengers to power on their devices while on board, and things may not be getting much better.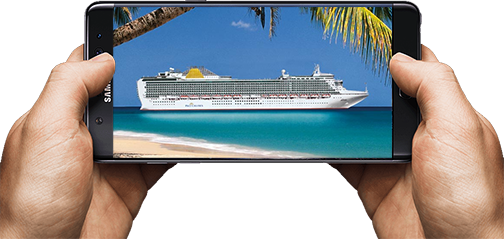 We saw several reports on Twitter of guests on Disney Cruise Line seeing printed media about the ship as well as in The Navigator (DCL's daily program) prohibiting the use of Galaxy Note 7's while on board.  Now, website crew-center.com reports that most cruise lines operating under Carnival Corporation and Royal Caribbean International, as well as Disney Cruise Line have banned the use of the device by both passengers and crew.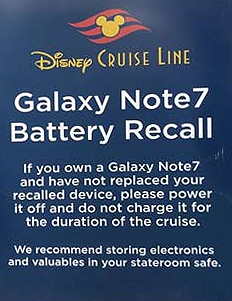 The Galaxy Note 7, Samsung's newest flagship smartphone, is actively being replaced with an updated version that is supposed to have software and hardware changes to prevent further incidents.  Despite this, reports surfaced yesterday of a new, supposedly fixed model Note 7 that began emitting smoke on a Southwest Airlines flight.
Update: Our friend Michael Poole is currently on board Enchantment of The Seas in Miami and informed us that the Captain requested at the muster drill that any passengers with Note 7's must power them off while on board.
Fire is of course the greatest danger at sea, and this is not to be taken lightly even though the number of incidents have been few compared to the number of units shipped.  It will be interesting to see how the Korean manufacturer is able to recover from the massive PR challenges that are sure to be ahead of them, especially if even the replacements units turn out to have difficulties.  It should be noted however that these issues generally have to do with the volatility of lithium-ion and lithium-polymer batteries, and incidents like this haven't only affected Samsung, but also Apple and other leading phone manufacturers.
Do you have a picture of any signage on board your cruise explaining that the use of Samsung Galaxy Note 7's is prohibited?  We'd love to see what's out there!  Comments below or find us on Twitter (@CruiseHabit) and Facebook (fb.com/CruiseHabit).