Posted on Sun, 07/02/2023 - 19:58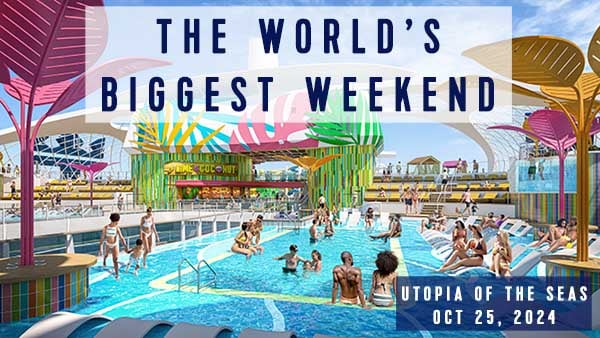 Royal Caribbean is making history by launching their sixth Oasis Class ship, Utopia of the Seas and putting her into service to make AMAZING weekends possible.  She'll be like no other Royal Caribbean ship, with unique offerings and endless opportunity for fun - whether you're a family, a couple, or just someone who needs an escape for three or four nights.  In the past, it was often older ships, or at least less "WOW" ships making weekend runs, so we decided to check this out for ourselves just after she launches.
You might be thinking that the latest and greatest may come at a premium, but we found an amazing deal.  Thanks to our friends at TouringPlans. They've got space set aside for at up to $500 less than the public rates available in October of 2023 on the Oct 25, 2024 sailing, and they're fully refundable.  In addition to prices lower than you'll find directly with Royal, they'll throw in $50 of onboard credit.  Join us! 
There's a new tiki bar, a train-themed immersive restaurant, multiples pools, world-class shows, and of course, relaxation with friends.  Want to touch dry land?  We're visiting the private destination of Coco Cay, so whether on the ship or off, we're raising the bar for what a weekend is, and doing so without breaking the bank!  
To Recap
Where: Utopia of the Seas out of Port Canaveral (Orlando), FL, visiting Cocoa Cay
What: A brand new Oasis Class ships with dining and entertainment options not found on other ships!
When: October 25th, 2024
Why: To enjoy 'The Biggest Weekend Ever' with CruiseHabit and other friends.
How: Fill out the purple form below and the awesome TouringPlans will set you up with savings you can't find anywhere else.
Example Group Rates - Fully Refundable!
Space is limited, but as of Oct 28, 2023, these are some of the rates exclusively available to those booking through this offer.  Prices are for two guests in one room, before taxes.
 Boardwalk Balcony - $1291.54
Central Park Balcony - $1333.54
Others available, complete the form below to inquire.
Get more information on this deal!