Author: Bill June 8, 2017, Updated: June 8, 2017
In an industry-first move, Carnival Cruise Lines has launched a program which allows guests to pay for their cruise in three monthly installments.  Traditionally, guests have had to make a deposit and then pay the balance before final payment day.  This new program allows guests to not only spread out these payments, but do so automatically so they can both budget easily and avoid a missed opportunity to sail because of forgotten payments.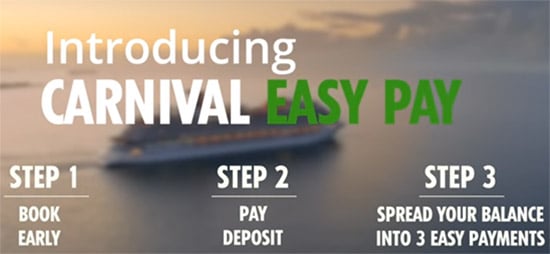 How Carnival EasyPay Works
Using a credit card, you pay the deposit right away to lock in the reservation (EasyPay is only available on sailings at least 90 days out, not on sailings that require you to pay in full at time of booking).  Thirty days after the deposit is made, the credit card on file will be charged for the first of three equal payments, the others at sixty and ninety days.  This divides up the cost of the cruise across 120 days without having to take any action to make the additional payments.  Carnival is providing this service for no charge, so the only interest paid comes from your credit card company if you don't pay your balance right away.
 "A Carnival cruise is already the most affordable and value-packed vacation there is and with Carnival EasyPay we're making budgeting and paying for a cruise even easier and more convenient," said Christine Duffy, president of Carnival Cruise Line.  "Rather than having to remember to pay for their cruise, Carnival EasyPay provides guests with peace of mind knowing that their payment is being processed automatically. Carnival EasyPay certainly lives up to its name!"
Taking advantage of EasyPay is simple.  When paying for your Carnival Cruise, select EasyPay in the "How Would You Like To Pay" section of the checkout or by phone if the booking is made with a call-center agent.  Travel agents will also be able to enroll guests on EasyPay.  Note that not all sailings are eligible for EasyPay,
Billy's Take
It will be interesting to see the criteria Carnival uses in establishing whether or not to offer EasyPay.  I checked but didn't immediately find it available on a few random sailings - but it's early.  It would seem counter-intuitive to offer the option on any sailing less than ~180 days out, as this could conceivably mean that a charge could be denied inside of the final payment date.  It would seem likely that Carnival would also be collecting final payment much earlier than if guests were left only to pay on their own, waiting until just before final payment date, and this change in payment pattern would increase Carnival's cash on hand.  If guests are okay with the idea of automatic charges (and potentially earlier payment), I can see Carnival offering up similar options for more than just the cruise fare.  For example, you might not be inclined to pay for specialty dining ahead of time, but if Carnival offered the option to book dining now, and have the payment automatically made on a future date so that you can lock in a reservation without paying anything today, it would likely lead to an increase in these pre-payments.  This is similar to recurring billing, which is sometimes convenient and sometimes hated, but for businesses it's a great way to make paying for something passive rather than active, which almost always reduces friction and increases conversion.  How many months ago did you mean to cancel that gym membership?  Imagine that scenario playing out for your next cruise.
That's not to say we don't think this is a good thing - options are great.  Cruises are big purchases, and this will certainly make it easier for some people to budget, and reduce the number of times cruise payments simply fall off guests' radar.  We've been meaning to book a sailing on the Carnival Vista (a fantastic ship, by the way), so maybe we'll give this a whirl.
What do you think about EasyPay?  Do you spread out your cruise payments?  Comment below or reach out on Twitter or Facebook.