Author: bill June 26, 2022, Updated: October 2, 2022
If you have an American Express card, log in to your account and check the offers section for a way to save $250 on your next cruise.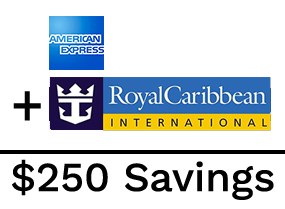 Recently, browsing our American Express account, we noticed this offer that will save us $250 on our next Royal Caribbean cruise, and it might save you money, too.  Like all similar Amex offers you've got to opt-in first (it takes only a click once you've logged in).  The way it works is simply, once you've added the offer, book your cruise (we always recommend using a good travel agent for better service and savings - you can even request a quote right here) and pay at least $1,000 of it using your American Express Card, and you'll get $250 back as a statement credit.  Not bad at all!
Once you've logged into your account, you may be able to use this link to more quickly find travel offers.

Different cardholders may see slightly different offers, or not see this at all.  So, if you see something different than we do, comment below so others know what to look out for! 
The exact offer and its fine print are below.  
DETAILS
Get a one-time $250 statement credit by using your enrolled eligible Card to spend a minimum of $1,000 in one or more transactions on cruise reservations booked at https://www.royalcaribbean.com, by phone at 1-866-562-7625 or by contacting your preferred travel advisor by 8/15/2022. See terms.
OFFER TERMS
Enrollment limited. Must first add offer to Card and then use same Card to redeem. Only U.S.-issued American Express® Cards are eligible. Limit 1 enrolled Card per Card Member across all American Express offer channels. Your enrollment of an eligible American Express Card for this offer extends only to that Card. Offer valid on cruise bookings made online at https://www.royalcaribbean.com, by calling 1-866-562-7625 or booked through your Travel Professional. Reservations must be booked on US website only. Valid only on purchases made in US dollars. Excludes onboard purchases, e-gift card and physical gift card purchases made online, transfers/transportation to the ship, MGM Resort International Joint Vacation and Royal Wedding Packages. Excludes Celebrity Cruise, TUI Cruises and Silversea brands. Please note that hotels, car rental companies, cruise lines do not accept prepaid cards for charges authorized in advance, although prepaid cards may be used to settle the final bill. Check to make sure prepaid cards are accepted before attempting to use your prepaid card to take advantage of offers for these merchants. ©2022 Royal Caribbean International. Ships' registry: Bahamas. Offer is non-transferable. Limit of 1 statement credit per Card Member. You may not receive the statement credit if we receive inaccurate information or are otherwise unable to identify your purchase as qualifying for the offer. For example, you may not receive the statement credit if (a) the merchant uses a third-party to sell their products or services; or (b) the merchant uses a third-party to process or submit your transaction to us (e.g., using mobile or wireless card readers); or (c) you choose to make a purchase using a third-party payment account or make a purchase using a mobile or digital wallet. Purchases may fall outside of the offer period in some cases due to a delay in merchants submitting transactions to us or if the purchase date differs from the date you made the transaction (for example, the purchase date for online orders may be the shipping date). Statement credit will appear on your billing statement within 90 days after 8/15/2022, provided that American Express receives information from the merchant about your qualifying purchase. Note that American Express may not receive information about your qualifying purchase from merchant until all items/services from your qualifying purchase have been shipped/provided by merchant. Statement credit may be reversed if qualifying purchase is returned/cancelled. If American Express does not receive information that identifies your purchase as qualifying for the offer, you will not receive the statement credit. Limit 1 enrolled Card per American Express Card online account. The enrolled Card account must be active, not past due, canceled, or have a returned payment outstanding to receive the statement credit. Any benefit earned from this offer is in addition to the rewards (i.e. Membership Rewards or cash back) earned as part of your existing Card benefits, but your ability to earn spend-based rewards for the purchase will be based on the amount after any statement credit or other discount is applied. Amex Offers are dynamic and personalized, so the offers you see may change. For questions regarding your Card Account, please call the number on the back of your Card. By adding an offer to a Card, you agree that American Express may send you communications about the offer. POID: K3UN:0002