Author: Bill January 30, 2020, Updated: March 14, 2020
Multiple cruise lines are now denying boarding to guests who have been to mainland China (and in some cases Hong Kong) in the past 14-30days.  Affected parties are being offered 100% future cruise credit by the lines.  Additionally, some lines are putting heath screening procedures in place at some ports.
**This post has and will continue to be updated as cruise lines release statements**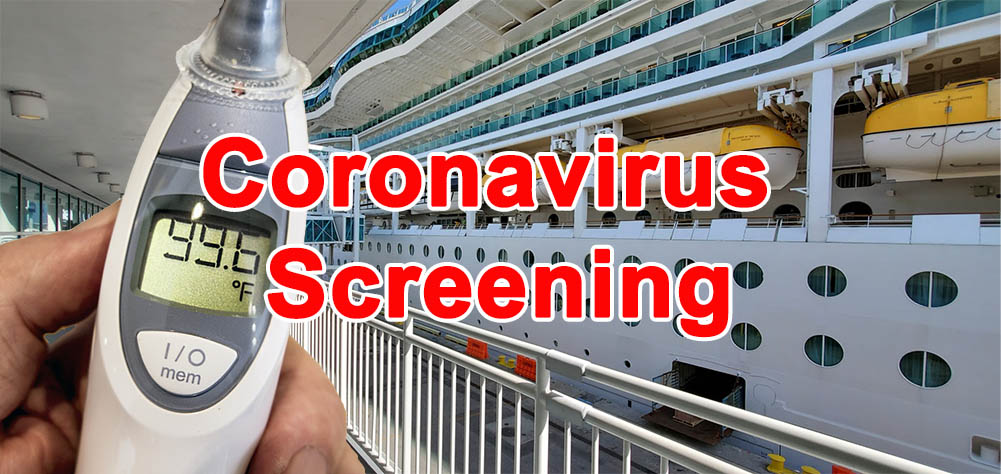 The first news of this came by way of Norwegian Cruise Lines on January 29th, who sent out a letter to travel partners advising they'd deny boarding to any guest who has been to mainland China in the past thirty days.  Additionally, guests boarding in Hong Kong will have their temperatures checked, and anyone with a temperature of 100.4F/38C will be denied boarding.  The full letter can be found below, and a similar letter for sent for sister-company Oceania cruises.
Dear Valued Guest,

Due to the growing concern regarding coronavirus infections in China, we will be denying boarding to any guest who has visited mainland China in the last 30 days. These guests will receive a refund for their cruise provided they provide proof of travel in the form of airline tickets or similar. Please note that mainland China does not include Hong Kong, Macau or Taiwan.

In addition, we are implementing non-touch temperature screenings for all passengers embarking in Hong Kong. Any guest who registers a body temperature of 100.4 degrees Fahrenheit or 38 degrees Celsius or higher, will not be allowed to board. These guests will be advised to open a travel insurance claim with their insurance provider.

Please know that the safety, security and well-being of our guests and crew is our number one priority. We truly appreciate your understanding and thank you for your diligence and assistance in helping to ensure all our guests and crew remain in good health. We also thank you for your continued loyalty. For questions regarding the coronavirus, please visit the website for the United States Centers for Disease Control and Prevention.

To begin the refund process, please submit your proof of travel in the form of airline tickets or similar, along with your cruise reservation number to [email protected]ncl.com.

As always, we appreciate you choosing Norwegian Cruise Line for your upcoming vacation at sea. We remain at your service and will communicate further updates as they become available.

Sincerely,
Katty Byrd
Vice President, Guest Services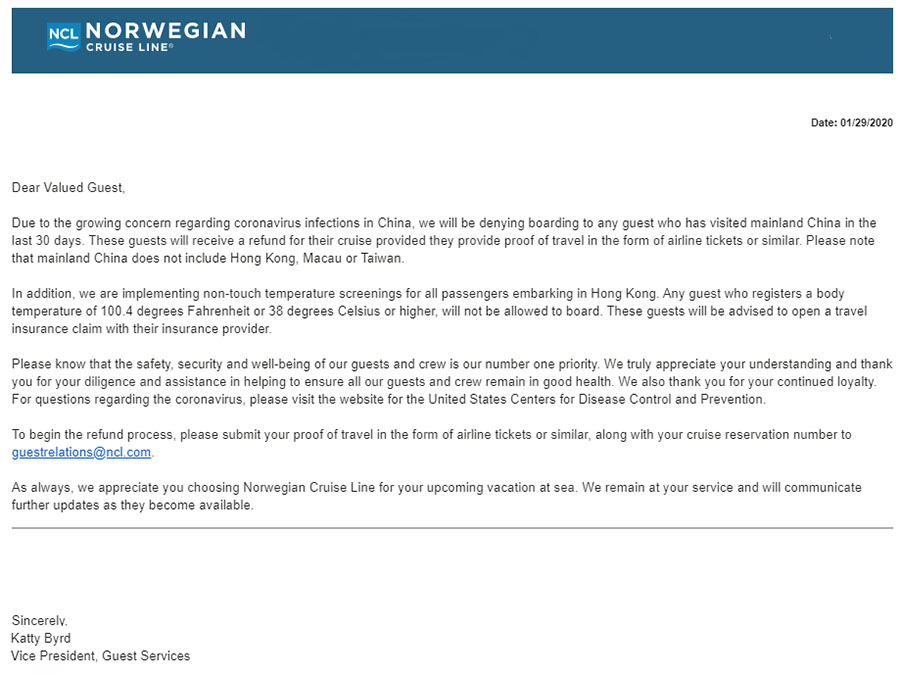 It's worth pointing out that febrile guests will not be refunded and asked to file a claim with their travel insurance carrier. Personal illness is just one of the many good reasons to consider travel insurance.  The cruise lines' jobs are to operate safely, and guests with any type of communicable infection should not board any ship at any time, in the interest of public health - but also because if you're sick, you want to be close to land-based healthcare facilities.  Remember that when looking for travel insurance, you understand the type of coverage that you're looking for, and shop specifically for that, rather than making assumptions about coverage.  We go over this in this article: How to Pick the Right Travel Insurance Policy for Your Next Cruise
On January 30th, Celebrity Cruises and Carnival Cruises both began informing guests and travel partners that guests who visited mainland China (as well as Hong Kong in the case of Celebrity's letter) would be denied boarding and issued future cruise credits.  These notices also come as Celebrity Cruises sister company Royal Caribbean has canceled additional sailings in China.  The letter from Carnival is shown below.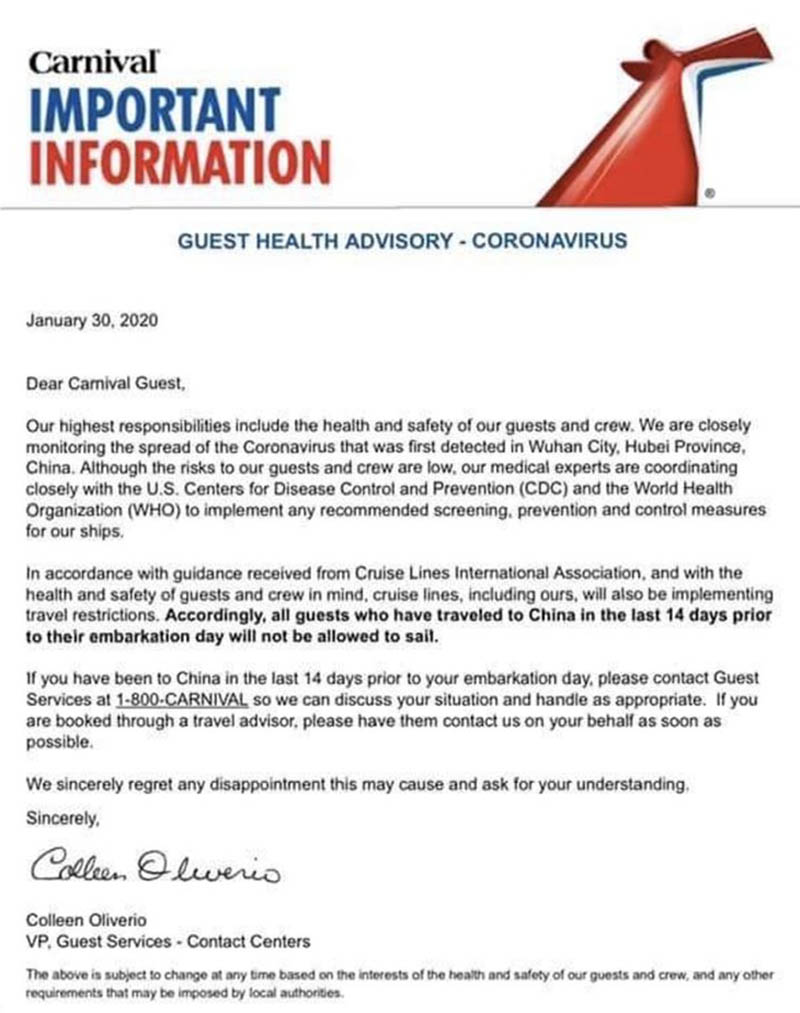 Billy's Take
Do keep in mind that these are efforts to slow and reduce the spread of coronavirus, to prevent it from becoming rampant, and not because it is.  The spread of the disease is a concern, and it will spread, but actions like these help to protect everyone.  For now, just as we explained earlier this week, if you're planning on traveling anywhere but China, it would seem prudent to focus on simple things like thorough and frequent hand-washing, and getting a flu vaccine, and tens of thousands of people die of the flu/influenza each year in the US alone.  
If you're planning on traveling, keep a watchful eye on emails and texts from your travel professional or tour operator.  I'd recommend not calling your cruise line or others asking for updates - they're working hard at making the best decisions they can with the best information they have, and will announce any decisions they make as soon as they can.  Instead of picking up the phone and slowing down the progress, just like the cruise lines tell you for norovirus, wash your hands.