<![if !vml]>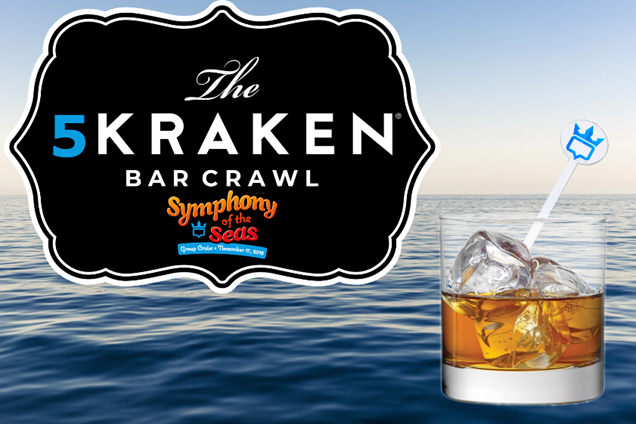 <![endif]>
| | |
| --- | --- |
| Date: | November 18th, 2018 |
| Time: | 2:30pm |
| Place: | Bionic Bar |
| | (deck 5, Royal Promenade, starboard-aft corner) |
* Got Voom?  Bring up this guide on your phone or tablet! *
www.CruiseHabit.com/barcrawl
Introduction
The Royal Caribbean Blog Bar Crawls are storied events full of fun, mingling, and watching people try and get their money's worth from the drink package during a single afternoon.
This 5K event bar crawl will begin at the Bionic Bar on the Royal Promenade and then we'll move to various areas of the ship.
 

Want to stay behind?

 

Care to run ahead and beat the crowd?

 

Do it!

 

Remember, you can walk (don't run) from bar to bar with a drink, and there's certainly no obligation to get a drink at any given bar.

 

Hopefully this will keep us from overwhelming the friendly bar staff and our friends' livers.
<![if !supportLineBreakNewLine]>
<![endif]>

<![if !vml]>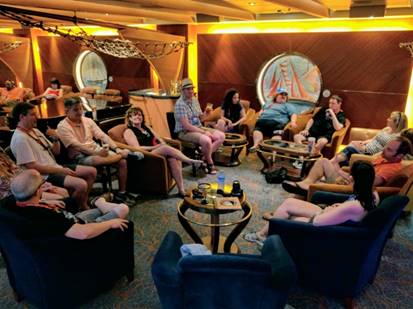 <![endif]>
Stop 1 – Bionic Bar – 2:30pm
(deck 5, Royal Promenade, starboard-aft corner)
Grab a drink from the bottle-slinging robot at the Bionic Bar, the Boot & Bonnet Pub, or the On-Air Club (if open).  Once you've got a beverage in hand, mingle with the group throughout the Royal Promenade for about 30 minutes.
| | |
| --- | --- |
| <![if !vml]><![endif]> | <![if !vml]><![endif]> |
Stop 2 – Schooner Bar – 3:00pm
(deck 6, 'Upper' Royal Promenade, port-aft corner)
From the lower part of the Royal Promenade on deck 5, walk aft and take the stairs or lifts up one deck to the Schooner.  Still have a full drink?  Hate nautical-themed bars (and presumably, fun)? Skip the Schooner and take the Rising Tide Bar up to deck 8 and meet us at our third stop.  Note this is dependent on the timing of the Rising Tide Bar, and it only accommodates 16 guests.
| | |
| --- | --- |
| <![if !vml]><![endif]> | <![if !vml]><![endif]> |
Stop 3 – Trellis Bar – 3:20pm
(deck 8, middle of Central Park, starboard side)
The Trellis Bar is in the middle of Central Park, meaning we'll get to enjoy the beautiful ambiance of the area as well as some fresh air – which may be pretty important if you're on your third drink in such short order.  Listen for the crickets, look at the foliage, and maybe secure a reservation at 150 Central Park.  Ya know, since you're in the neighborhood.
| | |
| --- | --- |
| <![if !vml]><![endif]> | <![if !vml]><![endif]> |
Stop 4 – Solarium Bar – 3:40pm
(deck 15, forward)
Time to elevate the mood and head to the forward lifts and then up 7 decks to the Solarium Bar.  The Solarium is a supremely serene area by day and offers some fantastic views.  By night Big Wonder, the Solarium's art installation, glows beautifully.  Pro-tip: This is often one of the first bars to open in the morning…we've heard.  If you're starting to get a bit tired from all the, "touring" this is a great place to take a nap.  We'll tell you all about the rest of the crawl over dinner
.
| | |
| --- | --- |
| <![if !vml]><![endif]> | <![if !vml]><![endif]> |
Stop 5 – Pool Bar/Sand Bar – 4:00pm
(deck 15, mid-ship, forward of

Splashaway

Bay/Sports Pool)
Head aft toward the pool area and you'll find the Pool Bar (port) and Sand Bar (starboard).  Pick whichever you'd like and grab a drink with an ocean view.  Both bars look the same, but now that we think about it, you should test and see if there are any differences between their drinks – ya know, for science.  It may be warm, so this is a great time to get one of Matt's favorite drinks (and the inspiration for today's event's name), a Kraken Lava Flow. 
Want extra credit?  Run (err, carefully walk) up the outdoor stairs to the port side and visit the Mast Bar!  Wherever you're filling up, you'd better hurry as this is usually one of the quicker stops on our crawl.
| | |
| --- | --- |
| <![if !vml]><![endif]> | <![if !vml]><![endif]> |
Stop 6 – Wipe Out Bar – 4:20pm
(deck 16, aft, between the

FlowRiders

)
Walk up one deck and head aft to the sports area.  While Wipe Out Bar is one of our favorite spots for relaxing with a view of the ship's wake, it's more of a layover on this crawl.  Get a drink if you want, but most of us will be queueing up here for the Ultimate Abyss, the fastest (and most fun) way to get to our final drink destination!
| | |
| --- | --- |
| <![if !vml]><![endif]> | <![if !vml]><![endif]> |
Stop 7 – Playmakers Bar – 4:30pm
(deck 6, Boardwalk, port side)
You've made it! Almost.  To celebrate another successful Royal Caribbean Blog Group Cruise Bar Crawl, grab a drink, play a game, and get a snack. Oh, perhaps have some water, too.  Pro-tip: If you want a beer flight (1st, wow – you're finishing a bar crawl with a flight?!) and have a drink package, you'll be happy to know that you're covered – so try a variety of beer!
| | |
| --- | --- |
| <![if !vml]><![endif]> | <![if !vml]><![endif]> |
<![if !vml]><![endif]>

You made it! 
Thanks for joining us!